The Myrtilla Box of January!
The Myrtilla Box for January has arrived, and this is the 5th edition! Still brands that I like a lot, I'm so happy!
Little reminder of the concept of the Myrtilla Box:
It's a box bimonthly (it comes out every 2 months) which highlights artisanal cosmetics. Indeed in each box you can find 5 products:
Washable cotton made by a Swiss craftsman
3 products made by Swiss craftsmen (one for the body, one for the hair and one for the face)
You can choose: organic make-up (not Swiss) or a handcrafted fourth treatment!
The Myrtilla Box is sold at a price of 69.90 CHF, shipping costs are included in the price and the total value of the products will always be higher than the price you pay. For example, for this January edition, the box has a value of more than 80 CHF! That is to say that if you had bought each product individually, you will have paid more than 80 CHF (and shipping costs x5 products).
The contents of the Myrtilla Box for January
In each box is a booklet that contains information on the choice and use of the product, but also on the origin and its price!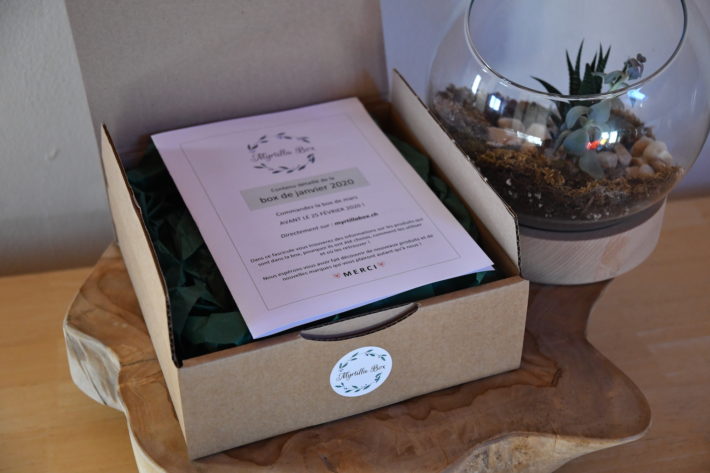 Washable cotton: Les P'tites Chenoilles - craftswoman from the canton of Friborg
Isn't it too pretty? In addition, its large shape is very practical 😀
To buy it : sold by kit of 5 cottons for 24 CHF on Instagram
or on the online store on myrtillabox.ch !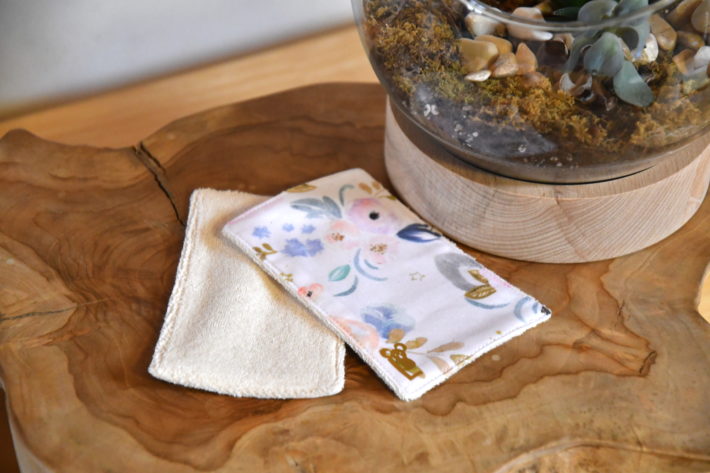 Facial care: Ecorce Verte cleansing oil - artisans of the canton of Vaud
This cleansing oil is great, I use it with my fingers, passing it over my face to dissolve the makeup, then I wet a washable cotton and I rinse my face with it! I find that trying it is adopting it! 😀
To buy it : 26 CHF per 100ml on the website ecorceverte.ch
or on the online store on myrtillabox.ch !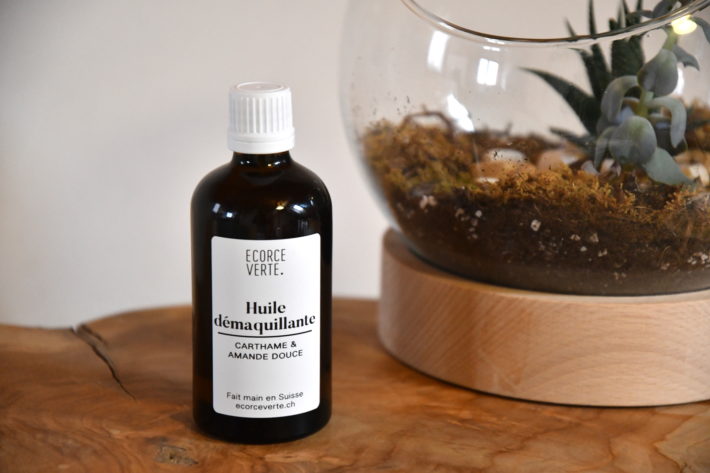 Hair care: Zhandumaya Sapoté mask - craftswomen from the canton of Geneva
It is a multi-purpose hair product: as a mask in the shower or after shampooing or as a hair cream (after the shower and after combing the hair). It defines and nourishes curly hair well, while detangling it well and leaving it very soft!
To buy it : 30 CHF per 100ml on the website zhandumaya.comor on the online store on myrtillabox.ch !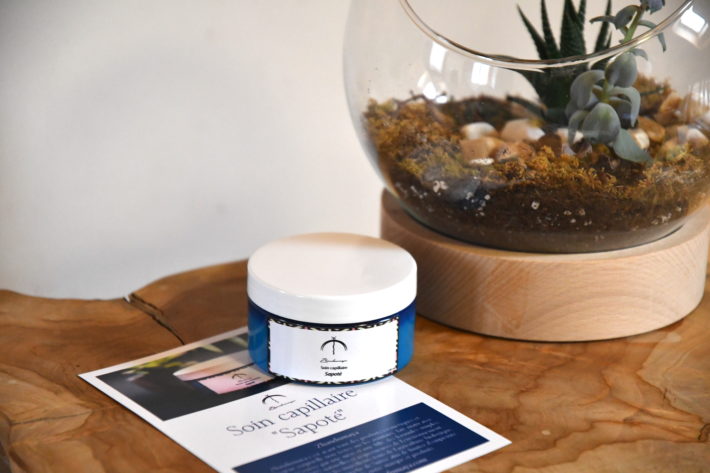 Body care: solid apricot balm from Là-Haut Cosm'éthiques Naturels - craftswoman from the canton of Valais
It is a solid body cream for the body, but also for the face and hair! It glides well on the skin, melts in contact with the skin and you can take it everywhere with you, which is very practical!
To buy it : 16 CHF for 33g on the website lahautcosmethiquesnaturels.com
or on the online store on myrtillabox.ch !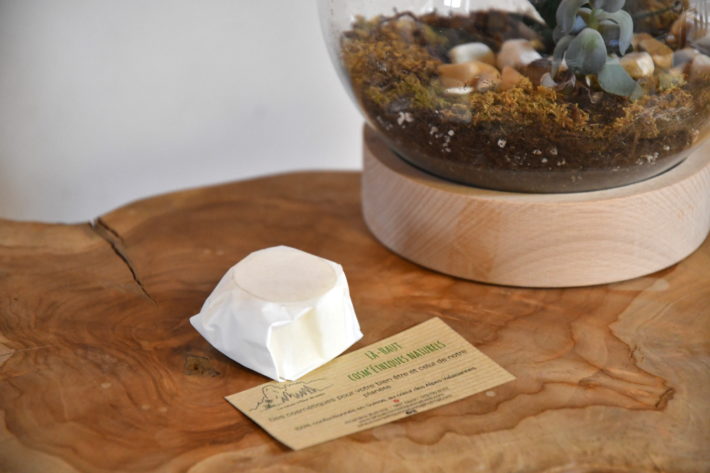 For those who did not want makeup: Rêve de Bulles Red Nose Balm - craftswoman from the canton of Friborg
It's a bit of a Vick's, but natural! It is really practical and it can also be used in children over 3 months 🙂 (but not on pregnant women before the 3rd month of pregnancy!)
To buy it : 8 CHF for 12ml on the website revedebulles.chor on the online store on myrtillabox.ch !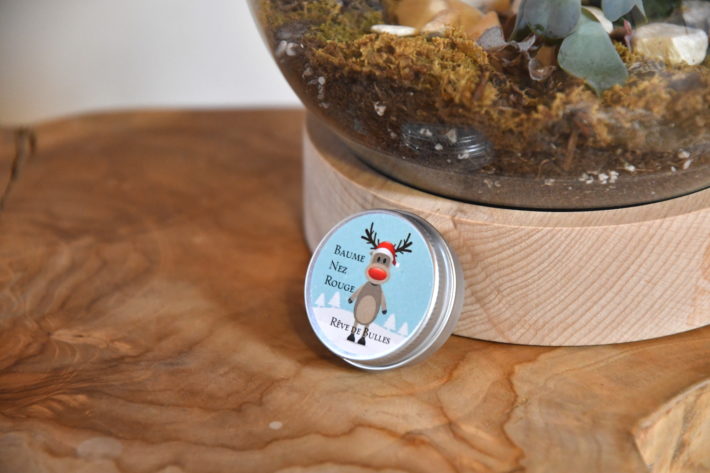 The make-up option: Boho Green Make Up nail polish - sold by Simply Bio
(Swiss site reseller of natural and organic products!)
Boho nail polishes are very shiny and in addition they have a good hold! In addition, their packaging is too pretty, right? I hesitated between 3 shades, so I selected one at random for subscribers looking for makeup. To apply on the feet if you have gel nails 🙂
The 3 shades chosen: Song, Black Tango and Dark Melody.
To buy it : 9.95 CHF on Simply Bio !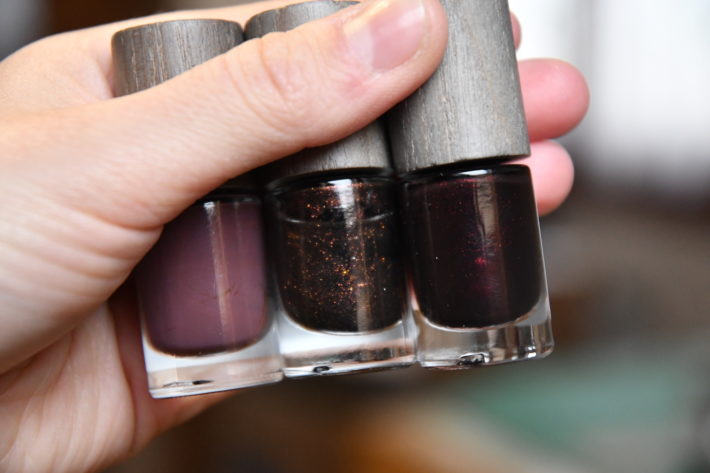 For this edition I have chosen products from 4 craftsmen that I had not yet contacted for the box, and as I like to vary and that you too like when there are not always the same craftsmen, so that's good! 🙂
And if you do not know it yet, on myrtillabox.ch you will not only find all the cosmetics from this box and the previous ones, on sale individually, but also other products! For the rules, for the kitchen, stickers, delicacies, zero waste… etc! 🙂
And you what do you think ? Have you already ordered or received it?